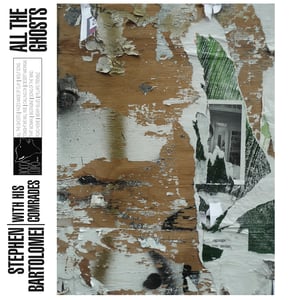 $

18.00 - On Sale
All the Ghosts LP is a limited edition, hand numbered vinyl record. The covers are silkscreen prints by the talented Pat Oakes of Ink Tank Merch. Each vinyl record includes a download card for a free digital copy of the music.
About The Making of "All The Ghosts"
For this album, I re-assembled a few of my favorite musicians from Omaha, Nebraska. The band consists of long time Mal Madrigal comrades; Ben Brodin, Ryan Fox, John Kotchian, Dan McCarthy, and Mike Saklar. Before convening in Omaha to rehearse, we worked out arrangements via the internet. Once we were together, notes were scribbled, "cheat sheets" arranged, and practice ensued. It was with our breaths held that we packed two mini-vans and caravanned to the studio in Chicago.

The album was recorded at Electrical Audio in Chicago with lauded engineer, Steve Albini. Steve was able to capture the details, dynamics, and orchestration as only he can. The "live-to-tape" approach of this recording felt comfortable, inspiring, and incredibly efficient. The whole thing was recorded in three days, then mixed on a fourth. We left the studio exhilarated, having recorded in the method and birthplace of some of our favorite albums.
As for the music, fans of Mal Madrigal (the prior name of this project) will be pleased to hear the work of familiar musicians. The album features a two incarnations of the the band, one anchored by John Kotchian as drummer, the other by Ben Brodin. Ryan Fox rounds out the rhythm section on bass, Dan McCarthy plays keys, and Mike Saklar's singular electric guitar work all uniquely complement the songs. The songs themselves explore both the darker and lighter shades of what Mal Madrigal has recorded in the past.
This album was made without the use of computers or any other digital process. The master was cut using a rare Studer A80VU MK II 1/2" tape machine equipped with full analog preview electronics at Salt Mastering in Brooklyn, NY. (Translation; This was how records of the classic era were cut, requires the unique talent of the cutting engineer, and is a craft in itself.)
As a person who loves collecting records, please know that it is no small thing to me that you would consider adding this album to your collection. I hope you find it a rewarding listen and a worthy addition.
Thank you for supporting this release. If you like what you hear, please spread the word, share the songs, and tell us where to gig in your town.
Stephen Bartolomei
with His Comrades
Faces Made Of Clay by Stephen Bartolomei with His Comrades from Stephen Bartolomei on Vimeo.